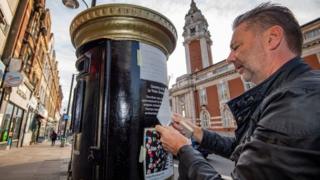 Four postboxes had been painted black to honour black Britons including Sir Lenny Henry and nursing pioneer Mary Seacole.
The Royal Mail postboxes – in London, Glasgow, Cardiff and Belfast – had been painted as segment of Sad History Month in October.
Each aspects a important identify within the British black community and has a social media hyperlink.
Royal Mail says the aim is to relieve trace the success of Sad Britons.
A QR code on the postboxes can additionally be scanned to bring up a list of the black Britons who win seemed on particular stamps.
The London postbox is in Acre Lane, Brixton, shut to to Sad Cultural Archives.
It aspects the image "Queuing on the RA" by Yinka Shonibare, one of six artists who became commissioned by Royal Mail to make long-established artworks for a set up of particular stamps issued to trace the 250th anniversary of the Royal Academy (RA).